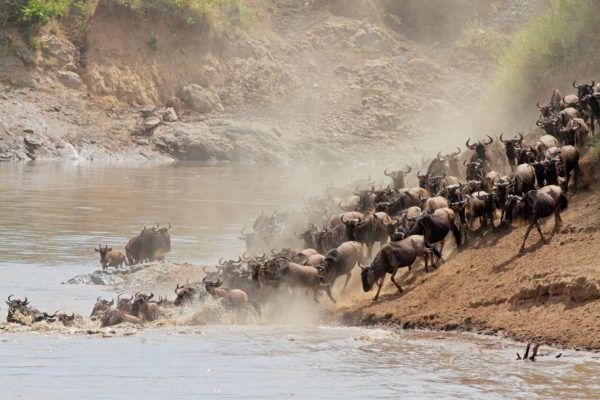 The great wildebeest migration is one of the most phenomenal natural spectacles in the world. It is an annual movement by millions of wildebeest, accompanied by large numbers of zebra, Grant's gazelle, Thompson's gazelle, elands and impalas across the greater Masai Mara-Serengeti ecosystem.
It is been a month since this annual wildebeest migration took off and still no tourist to witness the spectacle.
The wildebeest, also known as gnu, is a stocky ox-like African antelope with a drooping mane and beard, a long tufted tail and curved horn.
From July to around October ,the Mara welcomes the Great Migration of thousands of wildebeest and zebra from the Serengeti in Tanzania to Masai Mara in Kenya. During the wildebeest migration, you will witness how the constant battle for survival makes the Migration Season a particularly exhilarating time to visit Base-camp.
The Mara River crossing activity is considered the climax of the migration period. Mara River crossing is an event that will take you through a range of emotions: anticipation, heartache, inspiration, excitement and so much more. The sheer sight of the first herds of animals rushing into the crocodile-infested river will make you long for this wildebeest migration every year.
Traditionally, the migration has lit up tourism in the country, with thousands of tourists visiting the reserve to witness the animals crossing over. But, hotels, lodges and tented camps in Maasai Mara have remained closed since March due to the Covid-19 pandemic, a few which are open are receiving just a handful of tourists.
The yearly migration, which is termed as the eighth wonder of the earth ,begins in the south of the Serengeti, where more than half a million calves are born between January and March. But when the rains end in May or June, the land dries fast and the grazers must move on, heading for their dry season refuge in the Mara.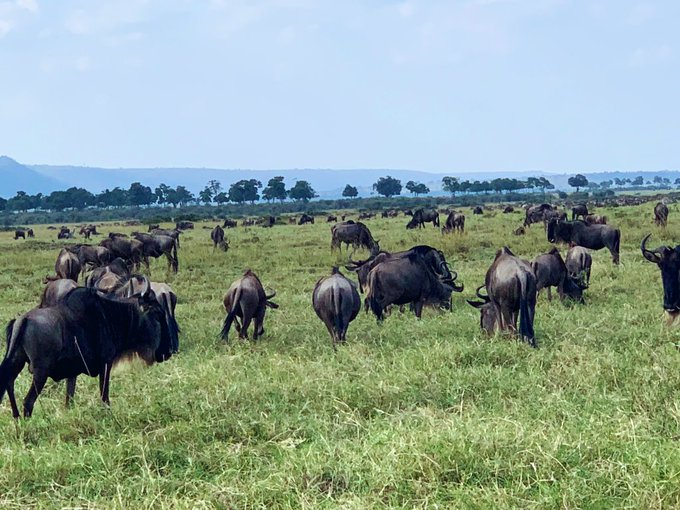 After entering the Mara, the animals head northwards towards River Talek, where they graze and mate.
The migration also brings with it lions, cheetahs, leopards, hyenas and other carnivores that prey on the wildebeest, with wildlife lovers enjoying dramatic hunting scenes, with the tall grass giving the hunters ample camouflage.
From July to October, the wildebeest move between the western and eastern sides of the river, crossing it at different points almost daily.
With the absence of tourists the government of Kenya is expected to lose over 2.4 billion in terms of revenue.